The cancellation of industry events from the COVID-19 crisis poses a real problem to salespeople who rely on events-based marketing. Conferences and workshops are obviously being canceled, and the associated costs are significant.
In the tech sector alone, the direct losses from the cancellation of just 10 events are more than $1.1 billion.
Many companies are canceling events or postponing them until after the crisis is over. However, the presence of so many people, including key decision makers stuck at home searching for things to do, is an obvious opportunity.
Virtual events offer a chance to connect, engage with leads, and turn some of these prospects into future customers.
In this article, I'll share with you how you can turn your physical event into a successful virtual event. But first, let's look at why you should switch to organizing a digital event in the first place.
What are the Benefits & Limitations of a Virtual Conference
While the basic concept behind an offline event and an online event is similar, how you manage the event will be very different. Let's touch on a couple of headline stats behind the value of webinars and video conferencing.
Below are four cherry-picked stats:
73% of B2B companies say a webinar is one of the best ways to generate leads
B2B companies hosted 61% of webinars held using the GoToWebinar platform
The average webinar attendance rate is 40–50% of the registration rate
Tuesdays and Wednesdays are the best time to host a webinar
Webinars should ideally be 30 to 45 minutes long
As you can see, webinars and online events are pretty popular. Webinars are also used across pretty much every niche.
Source: GoToWebinar
The stats I just mentioned highlight the benefits of virtual events. However, they also put a spotlight on two of the most significant weaknesses of a digital event. Specifically:
It's challenging to get people to attend a virtual event
It's just as hard to maintain their interest once they turn up
Unlike a physical event, where you will probably hop into a car or stay overnight in a new city, most people watching a virtual event will do so at home. This is because, unless you are running a business, attending an online event has a negative stigma attached.
It's not considered work.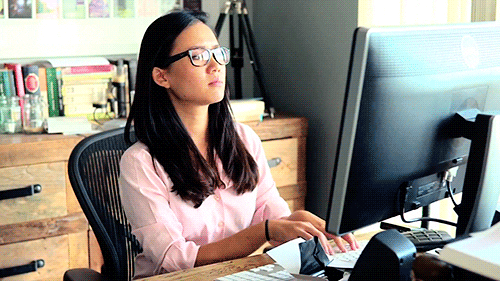 Source: Giphy
The stigma makes it difficult for people, unless they happen to be hosting the event, to justify attendance during work hours. Maybe if attendees could network, it would be viewed differently (something we'll touch on later).
As a result of this, it's hard to get people to come to the event. And just as importantly, because people on the internet are just one click away from watching a cat video on YouTube, it's hard to keep their attention.
This means you will struggle to:
Host a session that lasts more than two hours
Run an event over several days to the same audience
However, there are ways you can overcome this.
Fortunately, if your target audience is stuck working from home (COVID-19, anyone?), a virtual conference has a lot more appeal that it might have otherwise had. Not only is it a valid substitute for a physical event, it's a great way to "escape" the isolation of remote work.
That's not all. For all of the limitations I mentioned above, virtual events have one big benefit over live events: It's easier to make your audience take action.
Have I piqued your interest? Here's what you need to do.
1. How to Plan a Virtual Event
The practicalities of running a digital event are much the same as an offline event. Hosting the event is pretty easy. There are a lot of great live streaming and webinar tools to host the event. Yet hosting an event is still easier said than done.
"Online conferences are considerably devalued because of the gigantic amount of free content that already exists on the internet. Even top-notch experts frequently speak at webinars that anyone can watch. So, at least one component of your online event should involve something genuinely unique that no one has brought up before." —Alex Tachalova, founder of Digital Olympus
You want your event to be successful. So let's break things down into steps. The remainder of this guide will cover how to prepare for a digital event. Let's start at the beginning.
How to Choose the Webinar Topic (& Position the Event)
The format for digital events tends to have a teacher-student vibe. The people hosting the event are experts with insider tips and stories to share, and the attendees come to learn. In this regard, what you're really selling as the meat of your online event is a workshop with clear, actionable outcomes.
If your company uses event-based marketing to generate leads, coming up with an idea for your workshop should be pretty straightforward. First:
Identify relevant pain points your customers are experiencing that align with your product or service offering
Create a list of benefits an attendee would receive from the digital event
Decide on next steps for people who attended the event (sales call with an offer of a free [something], etc.)
It shouldn't take long to come up with a good idea for the event. Eventbrite is a good resource if you're struggling to come up with a suitable topic for your online event. Just Google, "your niche + workshop + Eventbrite + big city" to get a list of workshops.
Then, shortlist the topics that have the most attendees.
With the idea for your event sorted, you're ready to start thinking about the format.
Hosting a Virtual Event: What Format Will You Use
The format you use for your online event will have a huge impact on your approach. Broadly speaking, there are three different approaches you can use:
Presentation: you have a presenter that delivers a lecture to attendees
Panel Discussion: a couple of presenters discuss a topic or answer questions
Breakout Rooms: Attendees can do activities and then report back to the group
You can, of course, use a mixture of these three formats. I'll be involved in a webinar in the coming weeks where the main event is a presentation. The webinar will end with a panel discussion.
If you're converting a major industry event into a virtual conference, you can use all three formats, mixing and matching to create an experience that's similar to the one your physical event would have offered.
Breakout rooms are a relatively new phenomenon that is not available on most webinar platforms. You can use it on Zoom. You're probably now familiar with this feature.
The ability to set group tasks makes the event more engaging, plus it allows attendees to network. I have a feeling that this feature will increase the attendee's interest in digital events and the level of participation. It's something I haven't had much experience with as a host. However, I'm anxious to experiment with it in the coming weeks.
Just as importantly, video conferencing helps generate accountability from attendees. You can't just wander off and do another task while the event plays over the speaker. If other participants look attentive, you are much more likely to be attentive. This is great for hosts.
Here's what Adam Franklin, a social media speaker, had to say after recently hosting a two-day virtual event that heavily leveraged breakout rooms.
My 2 Day Client Intensive all planned out as an in person event in Australia, but due to the lockdown laws and travel restrictions, I needed to pivot to running the entire 2 day event via Zoom.
I was nervous about it at the start, but my fears were quickly allayed.
The immediate upside was that clients from all over the world could now attend from the safety and comfort of their home office. Not only did many more people attend, but the event was an eye-opening success for more reasons than that.
For the teaching aspect, I ran the workshop via my Logitech webcam and an iPad to show the slides and sketch on. However Zoom's breakout rooms were the stand-out feature of the event because attendees could literally meet everyone else over the course of the two days. During each breakout session I let Zoom randomly assign people into groups and I nominated the group size, from 3–8 people. The feedback was fantastic.
We had hot seats,open Q&A, skills sessions, breakouts and planning sessions, and you could easily introduce panel discussions and guest speaker sessions. I'm looking forward to the next one. —Adam Franklin, CEO of Bluewire Media
If you are going to run the event as a panel discussion, you'll need to identify relevant speakers. For breakout sessions, you'll need to make sure the platform you choose supports this feature. You should also plan the activities and set clear time limits.
Pick a Suitable Time
When hosting a virtual event, it's important to define your target demographic and the region or country you are targeting. For example, the mainland United States has four time zones. When it's 10am in Anchorage, it's 1pm in New York.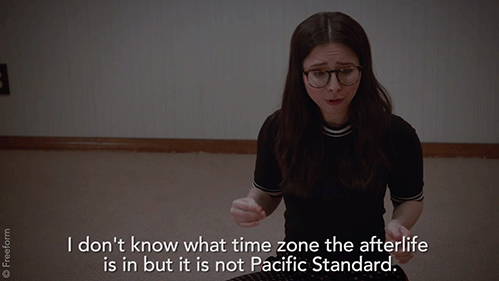 Source: Giphy
You'll need to find a time that works for your audience.
Consider the days of the week you're hosting the event as well. The middle of the week seems to be a popular choice. Weekends are, well, family time. If you're planning a virtual conference, consider scheduling it for the same days of the week your physical event would have been — excluding weekends, of course.
Create Opt-in Page & Email Sequence
Now you've decided on the topic, it's time to prepare your marketing material. There are two crucial things you'll need to prepare:
The optin page where you advertise the virtual event
An email series you'll send to people that sign up
The design for the optin page can be pretty simple. You need a signup form for registration, a brief overview of the itinerary, and what they'll learn by attending. Finally, include a brief bio with the hosts.
Below is an example of a registration page from an event where I was a speaker.
Most webinar platforms have a page builder you can use to create a registration page. If the platform you are using doesn't have one, then you can use a landing page builder to design a page.
It's always a good idea to add a bonus. Bonus offers have been proven to boost the conversion rate on the registration form. Think in terms of door prizes for attendees or another incentive.
In addition to a registration page, you need to create an email sequence for attendees. You generally send between three to four emails to people before the event. The email sequence should look a little something like this.
A welcome email
A reminder 1 week before the event
A second email reminder the day before the webcast
A last reminder an hour before the scheduled start time
Sending email reminders will drastically increase attendance. The table below gives you a sense of the correlation between how many emails you send and attendance. The results are collated from a case study conducted by Wild Apricot.
Source: Wild Apricot
As you can see, three emails is just about the right amount for a short event. More than that and you start to annoy people. Less, and people forget they signed up for the event and end up doing other things.For a virtual conference, you'll need to plan more emails. Send at least one email prior to the event to remind attendees and get them excited about it. Then send reminder emails just prior to the sessions each attendee has signed up for. Be aware, some virtual conference tools will
automate
these emails, making your life much easier!
2. How to Promote Your Virtual Event
So you have your materials in place, and you're clear about the type of companies you are targeting. You now need to get those prospects to attend the event. There are a couple of ways you should go about this.
First off, promote the event through your existing marketing channels. This will include promotion on the company website, through social media channels like LinkedIn, the company email list, and personal outreach. If you're doing personal outreach, ask the people you're messaging to forward your message to anyone who they think would be interested in the event.
That covers the obvious marketing channels.
Secondly, if you have speakers participating, ask them to promote the event through their social channels. You want to make it as easy as possible for them to do this. Create banners, email swipes, and other marketing materials they can use to promote the event.
Finally, do some targeted outreach. Create a list of prospects that fit your ideal customer persona. Find out who in these companies you should contact, and then outreach to them via LinkedIn or email. You can use an email finder like Voila Norbert to find the contact details of prospects.
Outreach is a hugely important element of event-based marketing. Creating that first touch with a prospect, even if they don't attend, could be laying the groundwork for a future sale. This is certainly my experience.
Using a combination of the strategies listed above, you should get a decent number of attendees. Outreach is a numbers game. Yet the end goal is to focus on quality, not quantity.
3. Tips for Hosting the Event
Now that you have your promotional materials ready, it's time to focus on the live event. If you're the webinar speaker, you have to know how to present yourself in front of your audience. Impressions are, after all, everything. If you don't look the part, people might not get through your presentation until the end.
Here are some tips on how to present:
Introduce yourself and tell your story
Give the audience the content you promised
Be serious when discussing the primary content
Throw in a few jokes here and there to lighten the mood
Give them a reason to stay until the end. For instance, a door prize
Provide a Q&A session
End with a suitable call to action (CTA)
On the topic of the final CTA, I suggest you send them to a squeeze page. On this page, you can get people to sign up if they are interested in learning more about your service.
There can be other tips out there, sure, but the bottom line is this: You're there to connect with your audience, and that means you need to encourage them to participate. Don't bore them with a long lecture. Teach them, but make them have fun as well.
4. How to Follow Up on a Virtual Event
The follow up is a crucial element of event-based marketing. This is your moment to engage warm leads and try to generate sales. Or, at least develop the relationship, so they will consider your product or service when they are making purchasing decisions.
Within 24 hours of the event, you should send an email to everyone who participated in the webinar. You can package it as a "thank you for attending" email, but the real aim is to get people to take action. For example, if you offer a service, you might provide a free consultation session, which would normally cost $1,000.
As for those who didn't attend, send them an email too. You might send a link to the presenters' slides.
Finally, don't forget to ask all your leads for their feedback on the webinar through a survey. You can use their feedback to improve, should you decide to conduct another online event.
Wrapping Up
The COVID-19 crisis has forced us to adapt. There's a good chance you are sitting at home reading this article, and you're not allowed in the office. Moreover, across many verticals, purchasing decisions have been put on hold. It's not a great time to be in sales. However, there are still opportunities.
In this guide, I covered how to set up and run a virtual event. The tips I shared are based on personal experience. I've also included insights from marketers and event organizers who have experience running online events.
Here are some key takeaways:
Define the outcomes of the event during the brainstorming phase. These benefits are the hook that will get people through the digital door, and they need to be included in your marketing copy.
Create a registration page with a synopsis of the event, a bio of the hosts, and the registration form. You can get inspiration from Eventbrite if you get stuck writing your copy.
Market the event far and wide. A mixture of marketing to your professional network alongside targeted outreach through a channel like LinkedIn should help get a crowd
An email series before the event will help to increase attendance levels from people who signed up with good intentions, but then got sucked into a series on Netflix.
Experiment with video conferencing to increase accountability among attendees. Breakout rooms will enable these attendees to network and make it feel more like an event.
End your digital event with a clear CTA. This is your opportunity to warm up the lead and try and convert them into a customer or client.
People are using video conferencing to connect with teammates, work colleagues, and clients. That change is probably here to stay.
Alongside that move, there will be a first-to-market opportunity for salespeople willing to embrace online events to connect with prospects.
This is your chance to take the leap.